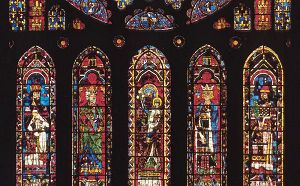 Paris Basin Churches L-M
List of all the 1740 churches with something from 1100-1250 period click for map.


Prepared by John James, 24 November 2003.

The Paris Basin is the limestone massif stretching 70 K or more around Paris.

The unit costs column is the "amount" spent on constructing any part built in this period, according to an analysis I made "Funding the Early Gothic churches of the Paris Basin" in Parergon, xv 1997, 41-82.


| | | | | | |
| --- | --- | --- | --- | --- | --- |
| TOWN | SAINT | LOCATION IN DEGREES | DEPARTEMENT | AFFILIATION | UNIT COST |
| Labrosse | Eutrope | 48-10'+02-20' | Loiret | | 0 |
| Labruyere | Pierre-Paul | 49-20'+02-30' | Oise | | 0 |
| Lady | Pierre | 48-30'+02-50' | Seine-et-Marne | | 0 |
| Laffaux | Assomption | 49-20'+03-20' | Aisne | | 0 |
| Lagery | Martin | 49-10'+03-40' | Marne | | 122 |
| Lagny-sur-Marne | ND-des-Ardents | 48-50'+02-40' | Seine-et-Marne | | 522 |
| Laignevillle | Remi | 49-10'+02-20' | Oise | | 138 |
| Lainville | Martin | 49-00'+01-40' | Yvelines | | 0 |
| Laniscourt | Madeleine | 49-30'+03-30' | Aisne | | 0 |
| Laon | Bishops chapel | 49-30'+03-30' | Aisne | Chapel | 159 |
| Laon cathedral | Notre-Dame | 49-30'+03-30' | Aisne | Cathedral | 5319 |
| Laon | Jean-de-Jerusalem | 49-30'+03-30' | Aisne | Commanderie | 77 |
| Laon | Martin | 49-30'+03-30' | Aisne | Premonstratensian | 1199 |
| Laon | Vincent | 49-30'+03-30' | Aisne | Benedictine | 23 |
| Laon | Cloister | 49-30'+03-30' | Aisne | | 0 |
| Larchant | Mathurin | 48-10'+02-30' | Seine-et-Marne | | 616 |
| Lardy | Pierre | 48-30'+02-10' | Essonne | | 0 |
| Largny-sur-Automne | Denis | 49-10'+03-00' | Aisne | | 150 |
| Latilly | Laurent | 49-00'+03-10' | Aisne | | 122 |
| Launoy | Assomption | 49-10'+03-20' | Aisne | | 0 |
| Laval-en-Brie | Laurent | 48-20'+02-50' | Seine-et-Marne | Benedictine | 140 |
| Laval-en-Laonnais | Nicolas | 49-20'+03-30' | Aisne | | 116 |
| Laval-le-Hameau | Barthelemy | 49-20'+03-10' | Aisne | | 0 |
| Lavannes | Lambert | 49-10'+04-10' | Marne | | 290 |
| Laversines | Laurent | 49-20'+02-10' | Oise | | 0 |
| Lavilletertre | Nativite | 49-10'+01-50' | Oise | | 249 |
| Lechelle | Aignan | 48-30'+03-20' | Seine-et-Marne | | 0 |
| Lenharree | Etienne | 49-10'+02-00' | Marne | | 0 |
| Lescherolles | Nativite | 48-40'+03-10' | Seine-et-Marne | | 61 |
| Lesges | Assomption | 49-10'+03-30' | Aisne | | 264 |
| Lettree | Etienne | 48-40'+04-10' | Marne | | 0 |
| Leudeville | Martin | 48-30'+02-10' | Essonne | | 61 |
| Levis-Saint-Nom | ND-de-la-Roche | 48-40'+01-50' | Yvelines | | 0 |
| Lhery | Nicolas | 49-10'+03-40' | Marne | | 0 |
| Lhuys | Medard-Gildard | 49-10'+03-30' | Aisne | | 152 |
| Liancourt-St-Pierre | Assomption | 49-10'+01-50' | Oise | | 0 |
| Lierval | Nativite | 49-20'+03-30' | Aisne | | 162 |
| Lierville | Martin | 49-10'+01-50' | Oise | | 25 |
| Limay | Aubin | 49-00'+01-40' | Yvelines | Celestines | 91 |
| Lime | Remi | 49-10'+03-30' | Aisne | | 0 |
| Limetz-Villez | Sulpice | 49-00'+01-30' | Val-d'Oise | | 0 |
| Linas | Merry | 48-30'+02-10' | Essonne | Collegiale | 80 |
| Lissy | Pierre | 48-30'+02-40' | Seine-et-Marne | | 0 |
| Litz | Lucien | 49-20'+02-10' | Oise | | 0 |
| Liverdy-en-Brie | Etienne | 48-40'+02-40' | Seine-et-Marne | | 0 |
| Livilliers | Assomption | 49-00'+02-00' | Val-d'Oise | | 101 |
| Lixy | Madeleine-Maur | 48-10'+03-00' | Yonne | Augustinian | 0 |
| Lizines | Georges | 48-30'+03-10' | Seine-et-Marne | | 106 |
| Longjumeau | Martin | 48-40'+02-10' | Essonne | Augustinian | 38 |
| Longpont | Sebastien | 49-10'+03-10' | Aisne | Cistercian | 3191 |
| Longpont-sur-Orge | Nativite | 48-30'+02-10' | Essonne | Clunaic | 172 |
| Longuesse | Gildard | 49-00'+01-50' | Val-d'Oise | | 56 |
| Longueval-Barbonval | Macre | 49-20'+03-30' | Aisne | | 78 |
| Longvillers | Pierre | WHERE | Oise | | 0 |
| Lorrez-le-Bocage | Anne | 48-10'+02-50' | Seine-et-Marne | Benedictine | 0 |
| Lorris | Notre-Dame | 47-50'+02-30' | Loiret | Benedictine | 74 |
| Loupeigne | Rufin-Valere | 49-10'+03-30' | Aisne | | 42 |
| Lourps | Meije | 48-30'+03-10' | Seine-et-Marne | | 80 |
| Louveciennes | Martin | 48-50'+02-00' | Yvelines | | 194 |
| Louvercy | Martin | 49-00'+04-10' | Marne | | 77 |
| Louvres, Justin | Justin | 49-10'+02-30' | Val-d'Oise | | 8 |
| Louvres, Rieul | Rieul | 49-00'+02-30' | Val-d'Oise | | 0 |
| Lucy-le-Bocage | Remi | 49-00'+03-10' | Aisne | | 0 |
| Lutz-en-Dunois | Pierre | 48-00'+01-20' | Eure-et-Loir | | 30 |
| Luzarches | Come-Damien | 49-00'+02-20' | Val-d'Oise | | 125 |
| Maast-et-Violaine | Martin | 49-10'+03-20' | Aisne | | 0 |
| Machault | Vincent | 48-20'+02-40' | Seine-et-Marne | | 0 |
| Maffliers | Assomption | 49-00'+02-10' | Val-d'Oise | | 0 |
| Magny-les-Hameau | Germain-de-Paris | 48-40'+02-00' | Yvelines | | 0 |
| Mailly-Champagne | Calixte | 49-10'+04-00' | Marne | | 0 |
| Maincy | Etienne | 48-30'+02-40' | Seine-et-Marne | | 0 |
| Maison-Alfort | Remi | 48-40'+02-20' | Val-de-Marne | | 81 |
| Maisons-Lafitte | Nicolas | 48-50'+02-00' | Yvelines | | 0 |
| Maisse | Medard | 48-20'+02-20' | Essonne | Benedictine | 0 |
| Maizy | Martin | 49-20'+03-40' | Aisne | | 16 |
| Malesherbes | Martin | 48-10'+02-20' | Loiret | Augustinian ? | 132 |
| Mantes-le-Jolie | Notre-Dame | 48-50'+01-40' | Yvelines | | 1397 |
| Marchais-en-Brie | Martin | 48-50'+03-20' | Aisne | | 48 |
| Marcheroux | Barn | 49-10'+01-50' | Oise | Priory | 0 |
| Marcilly-le-Hayer | Loup-de-Sens | 48-20'+03-30' | Aube | | 0 |
| Marcilly-sur-Seine | Nativite | 48-30'+03-40' | Aube | | 0 |
| Marcy-sous-Marle | Medard | 49-30'+03-30' | Aisne | | 0 |
| Mareil-Marly | Etienne | 48-50'+02-00' | Yvelines | | 207 |
| Mareil-sur-Mauldre | Martin | 48-50'+01-50' | Yvelines | | 76 |
| Mareuil-en-Dole | Germain | 49-10'+03-30' | Aisne | | 101 |
| Mareuil-sur-Ay | Hilaire | 48-50'+04-00' | Marne | | 0 |
| Mareuil-sur-Ourcq | Martin | 49-00'+03-00' | Oise | | 236 |
| Marfaux | Andre | 49-00'+03-50' | Marne | | 0 |
| Margival | Morant | 49-20'+03-20' | Aisne | | 0 |
| Marigny-en-Orxois | Madeleine | 49-00'+03-10' | Aisne | | 145 |
| Marissel | Notre-Dame | 49-20'+02-00' | Oise | | 0 |
| Marizy-Saint-Mard | Martin | 49-10'+03-10' | Aisne | | 76 |
| Marizy-Sainte-Genevieve | Genevieve | 49-10'+03-10' | Aisne | | 52 |
| Marle | Assomption | 49-30'+03-30' | Aisne | | 317 |
| Marles-en-Brie | Germain-d'Auxerre | 48-40'+02-50' | Seine-et-Marne | | 69 |
| Marly-la-Ville | Etienne | 49-00'+02-20' | Val-d'Oise | | 214 |
| Marolles-en-Brie | Julien-de-Briode | 48-40'+02-30' | Seine-et-Marne | | 67 |
| Marolles-en-Hurepoix | Assomption | 48-30'+02-10' | Essonne | | 0 |
| Marolles-sur-Ourcq | Genevieve | 49-10'+03-00' | Oise | | 39 |
| Marolles/Preciamont | Clos du Reveil | 49-10'+03-00' | Oise | Chapel | 0 |
| Marsainvilliers-le-Grand | Pierre-es-Liens | 48-10'+02-10' | Loiret | | 0 |
| Marson | Nicolas | 48-40'+04-10' | Marne | | 0 |
| Massy | Marie-Madeleine | 48-40'+02-10' | Essonne | | 0 |
| Matougues | Georges | 48-50'+04-20' | Marne | | 0 |
| Mattencourt-Warluis | Arnoult | 49-20'+02-00' | Oise | Priory | 0 |
| Maubisson | N-Dame-la-Royale | 49-00'+02-00' | Val-d'Oise | Cistercian | 0 |
| Maule | Nicolas | 48-50'+01-50' | Yvelines | | 0 |
| Mauregny-en-Haye | Martin | 49-30'+03-40' | Aisne | | 0 |
| May-en-Multien | Assomption | 49-00'+03-00' | Seine-et-Marne | | 146 |
| Meaux | Etienne | 48-50'+02-50' | Seine-et-Marne | Cathedral | 458 |
| Meaux | Bishop's Chapel | 48-50'+02-50' | Seine-et-Marne | Chapel | 54 |
| Mecringes | Etienne | 48-50'+03-20' | Marne | | 65 |
| Meix-Tiercelin, le | Quentin | 48-30'+04-20' | Marne | | 0 |
| Mello | Nativite | 49-10'+02-20' | Oise | | 343 |
| Melun, Assomption | Assomption | 48-30'+02-30' | Seine-et-Marne | Benedictine | 477 |
| Melun, Pierre | Pierre | 48-30'+02-30' | Seine-et-Marne | Benedictine | 0 |
| Menevillers | Leonard | 49-30'+02-30' | Oise | | 0 |
| Mennency | Pierre | 48-30'+02-20' | Essonne | | 131 |
| Mercin-et-Vaux | Leger | 49-20'+03-10' | Aisne | | 72 |
| Mere | Denis | 48-40'+01-40' | Yvelines | | 0 |
| Mereville | Pierre-es-Liens | 48-10'+02-00' | Essonne | | 0 |
| Merlemont (Warluis) | Severin | 49-20'+02-00' | Oise | | 0 |
| Merlieux-et-Fouquerolles | Genevieve | 49-30'+03-20' | Aisne | | 0 |
| Merval | Martin | 49-20'+03-40' | Aisne | | 21 |
| Merviliers | Fiacre | 48-10'+01-40' | Eure-et-Loir | | 0 |
| Mery-sur-Oise | Denis | 49-00'+02-10' | Val-d'Oise | | 0 |
| Mesnil-sur-Oger, le | Nicolas | 48-50'+04-00' | Marne | | 0 |
| Mespuits | Medard | 48-20'+02-10' | Essonne | | 0 |
| Meulan | Nicolas | 49-00'+01-50' | Yvelines | | 159 |
| Meurival | Nicolas | 49-20'+03-40' | Aisne | | 0 |
| Meux, Le | Martin | 49-20'+02-40' | Oise | | 0 |
| Mezieres-en-Gatinais | Benoit | 48-00'+02-20' | Loiret | | 50 |
| Mezieres-sur-Seine | Nicolas | 48-50'+01-40' | Yvelines | | 0 |
| Mezy-Moulins | Nativite | 49-00'+03-30' | Aisne | | 268 |
| Mezy-sur-Seine | Germain-de-Paris | 49-00'+01-50' | Yvelines | | 0 |
| Michery | Laurent | 48-10'+03-10' | Yonne | Premonstratensian | 0 |
| Michery, farm | Cour-Notre-Dame | 48-10'+03-10' | Yonne | | 0 |
| Milly-la-Foret | Assomption | 48-20'+02-20' | Essonne | | 0 |
| Missy-aux-Bois | Assomption | 49-20'+03-10' | Aisne | | 0 |
| Missy-sur-Aisne | Radegonde | 49-20'+03-20' | Aisne | | 30 |
| Mogneville | Denis | 49-10'+02-20' | Oise | | 101 |
| Moigny-sur-Ecole | Denis | 48-20'+02-20' | Essonne | | 39 |
| Moisenay | Martin | 48-30'+02-40' | Seine-et-Marne | | 112 |
| Moisy | Barn | 49-00'+03-00' | Aisne | Commanderie | 103 |
| Moleans | Pierre | 48-00'+01-20' | Eure-et-Loir | | 0 |
| Molinchart | Martin | 49-30'+03-30' | Aisne | | 0 |
| Monceaux | Assomption | 49-10'+02-30' | Oise | Benedictine | 14 |
| Moncetz | Assomption | 48-50'+04-20' | Marne | Premonstratensian | 0 |
| Monchy-Saint-Eloi | Eloi | 49-10'+02-20' | Oise | | 30 |
| Mondreville | Etienne | 48-00'+02-30' | Seine-et-Marne | | 0 |
| Mons-en-Laonnais | Pierre-Paul | 49-30'+03-30' | Aisne | | 363 |
| Mont Notre-Dame | Notre | 49-10'+03-30' | Aisne | | 85 |
| Mont-de-Soissons | Jean-de-Jerusalem | 49-20'+03-20' | Aisne | Commanderie | 51 |
| Mont-sur-Courville | Notre-Dame | 49-10'+03-30' | Marne | Priory | 0 |
| Montagny-Sainte-Felicite | Felicite | 49-00'+02-40' | Oise | | 0 |
| Montaigu | Jean-Pierre | 49-30'+03-40' | Aisne | | 0 |
| Montainville | Hilair | 48-10'+01-30' | Eure-et-Loir | | 0 |
| Montargis | Madeleine | 48-00'+02-40' | Loiret | | 0 |
| Montarlot | Mammes | 48-20'+02-50' | Seine-et-Marne | | 18 |
| Montataire | Assomption | 49-10'+02-20' | Oise | Benedictine | 57 |
| Montceaux | Etienne | 48-30'+02-20' | Essonne | | 0 |
| Montceaux-les-Provins | Germain-d'Auxerre | 48-40'+03-20' | Seine-et-Marne | | 0 |
| Montchalons | Pierre Paul | 49-30'+03-40' | Aisne | | 40 |
| Montchauvet | Madeleine | 48-50'+01-30' | Yvelines | | 91 |
| Montcresson | Leger | 47-50'+02-40' | Loiret | | 100 |
| Montepilloy | Jean-Baptiste | 49-10'+02-40' | Oise | | 0 |
| Montereau-faut-Yonne | Notre-Dame-Loup | 48-20'+02-50' | Seine-et-Marne | | 0 |
| Montevrain | Remi | 48-50'+02-40' | Seine-et-Marne | | 96 |
| Montgeroult | ND-Assomption | 49-00'+02-00' | Val-d'Oise | | 70 |
| Montgobert | Antoine-l'Ermite | 49-10'+03-00' | Aisne | | 0 |
| Monthenault | Martin | 49-20'+03-30' | Aisne | | 0 |
| Monthiers | Assomption | 49-00'+03-10' | Aisne | | 67 |
| Monthurel | Eloi | 49-00'+03-30' | Aisne | | 30 |
| Montigny | Aignan | 48-00'+02-00' | Loiret | | 0 |
| Montigny-Lencoup | Genevieve | 48-20'+03-00' | Seine-et-Marne | | 0 |
| Montigny-Lengrain | Martin | 49-20'+03-00' | Aisne | Benedictine | 22 |
| Montigny-l'Allier | Martin | 49-00'+03-00' | Aisne | | 0 |
| Montigny-les-Conde | Eloi | 48-50'+03-30' | Aisne | | 0 |
| Montigny-sur-Loing | Pierre-Paul | 48-10'+02-40' | Seine-et-Marne | | 0 |
| Montigny-sur-Vesle | Pierre-Paul | 49-10'+03-40' | Marne | | 0 |
| Montlevon | Martin | 48-50'+03-30' | Aisne | | 0 |
| Montlognon | Rieul | 49-00'+02-40' | Oise | | 0 |
| Montmachaux | Martin | 48-10'+02-50' | Seine-et-Marne | | 0 |
| Montmartre | Pierre | 48-50'+02-10' | Paris | Benedictine | 249 |
| Montmort | Pierre-Paul | 48-50'+03-40' | Marne | | 113 |
| Montmort | [house] | 48-50'+03-40' | Marne | Clunaic ? | 0 |
| Montreuil-aux-Lions | Martin | 49-00'+03-10' | Aisne | | 163 |
| Montreuil-sous-Bois | Pierre-Paul | 48-50'+02-20' | Seine-Saint-Denis | | 97 |
| Montreuil-sur-Epte | Denis | 49-10'+01-40' | Val-d'Oise | | 36 |
| Montreuil-sur-Laon | Laurent | 49-30'+03-30' | Aisne | Cistercian | 31 |
| Montreuil-sur-Therain | Assomption | 49-20'+02-10' | Oise | | 16 |
| Montron-par-Macogny | ruins | 49-10'+03-10' | Aisne | Priory | 0 |
| Monts | Etienne | 49-10'+02-00' | Oise | | 0 |
| Morainvilliers | Leger | 48-50'+01-50' | Yvelines | | 0 |
| Morancez | Germain | 48-20'+01-30' | Eure-et-Loir | | 0 |
| Moret-sur-Loing | Nativite | 48-20'+02-40' | Seine-et-Marne | Benedictine | 268 |
| Moret-sur-Loing, Pont-Loup | Loup | 48-20'+02-40' | Seine-et-Marne | Priory | 120 |
| Morienval | Denis | 49-10'+02-50' | Oise | Benedictine | 333 |
| Morigny-Champigny | Trinite | 48-20'+02-10' | Essonne | Benedictine | 0 |
| Morsain (Aisne) | Denis | 49-20'+03-10' | Aisne | | 47 |
| Morsains (Marne) | Denis | 48-40'+03-30' | Marne | | 0 |
| Mortiers | Jean-Baptiste | 49-40'+03-30' | Aisne | | 0 |
| Moslins | Pierre-Paul | 48-50'+03-50' | Marne | | 0 |
| Moulineux | Thomas-Becket | 48-20'+02-00' | Essonne | | 66 |
| Moulins | Pierre | 49-20'+03-40' | Aisne | | 0 |
| Mourmelon-le-Grand | Laurent | 49-00'+04-20' | Marne | | 0 |
| Moussy | Martin | 48-10'+04-00' | Aube | | 0 |
| Moussy-Verneuil | Jean-Baptiste | 49-20'+03-30' | Aisne | | 0 |
| Moussy-le-Neuf | Opportune | 49-00'+02-30' | Seine-et-Marne | Clunaic | 24 |
| Moutiers-en-Beauce | Jean-Baptiste | 48-10'+01-40' | Eure-et-Loir | | 0 |
| Mouy | Leger | 49-10'+02-10' | Oise | | 120 |
| Moyenneville | Martin | 49-20'+02-30' | Oise | | 0 |
| Muizon | Symphorien | 49-10'+03-50' | Marne | | 0 |
| Muret-et-Crouttes | Jean-Baptiste | 49-10'+03-20' | Aisne | | 0 |
Continue to N-R alpha list
Link to Gothic Photo Archives
Link to rib vaulted Churches